Joan Vázquez, conocido actor catalán de musicales, debutará en Londres el 15 de octubre con su concierto 'Something's Coming – a Sondheim tribute'. Y tendrá la suerte de hacerlo rodeado de grandes artistas del West End, como son Julie Atherton, Sabrina Aloueche, Peter Caulfield y Natalie Hope.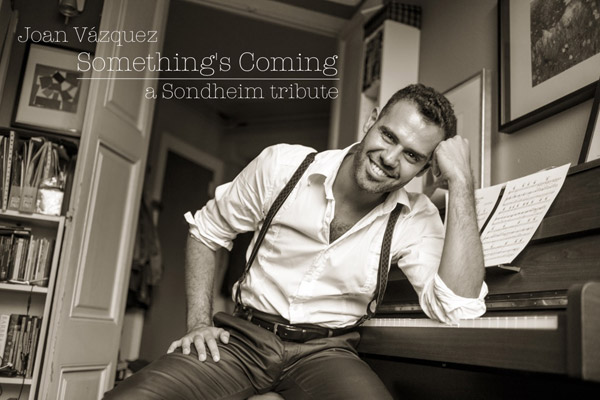 Tal y como os anunciábamos antes de las vacaciones, con este concierto, Joan Vázquez (Hair, Merrily We Roll Along, Mamma Mia!, The History Boys) celebrará la música de Stephen Sondheim, laureado compositor y letrista norteamericano, como parte de la nueva temporada Live at Zédel del popular cabaret The Crazy Coqs, situado en el corazón del West End londinense.
Él mismo al piano interpretará sus particulares versiones de temas tan legendarios como "Losing My Mind", "Finishing the Hat", "Send in the Clowns" o "Being Alive", a la vez que comparte con el público inteligentes citas de Sondheim sobre el arte, el amor y la vida. Y por supuesto no estará solo, sino que muy bien acompañado por grandes estrellas del West End como Julie Atherton (I Love You, You're Perfect, Now Change…, Therèse Raquin, Lift, Sister Act UK Tour, The Last Five Years, Avenue Q, Mamma Mia!), Sabrina Aloueche (We Will Rock You, Les Misérables), Peter Caulfield (Herod in Jesus Christ Superstar at the Open Air Theatre, One Man, Two Guvnors, Our House) y Natalie Hope (Legally Blonde UK Tour, The Commitments, Sister Act UK Tour, Evita UK Tour, Fame UK Tour).

Este no es el primer concierto de Joan Vázquez, del que ya hemos podido disfrutar en Barcelona, y que también estuvo en Madrid. Esperamos que pronto podamos verle de nuevo en los escenarios de la ciudad condal, mientras tanto, disfrutamos sabiendo que está rodeado de grandes artistas en el West End.
The show must go on! (con Joan Vázquez en el West End)