El martes 21 de julio tendrá lugar en Barcelona una nueva edición de «Nit de Musicals», bajo el lema «Una nit a Broadway amb grans veus del teatre musical i la Banda Municipal de Barcelona». El Teatre Grec de Montjuïc será testigo de la actuación de grandes actores y actrices del mundo de los musicales, quienes estarán acompañados por el maestro Andreu Gallén. El éxito de esta edición ha sido tal, que ya están las entradas agotadas.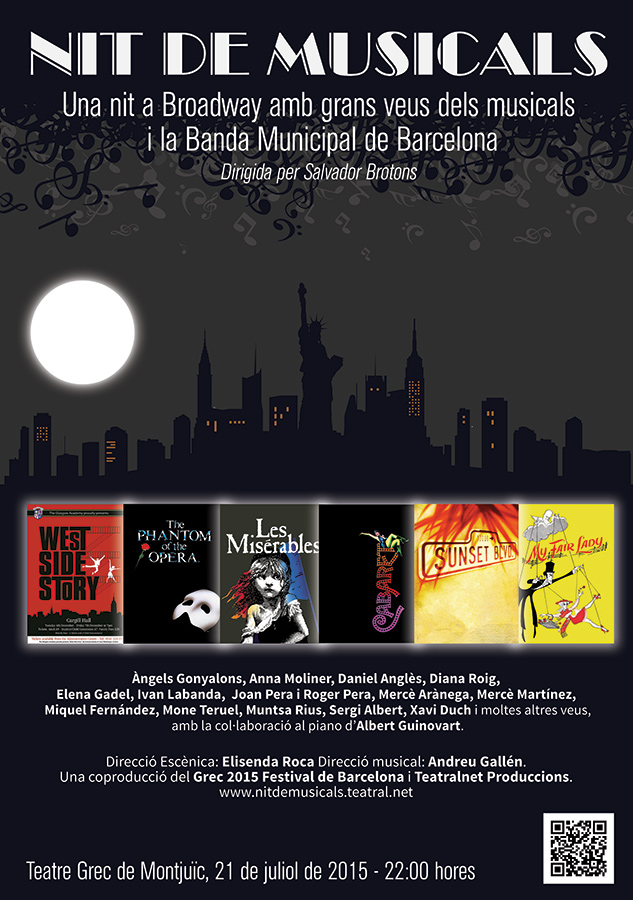 Àngels Gonyalons, Anna Moliner, Daniel Anglès, Diana Roig, Elena Gadel, Ivan Labanda, Joan Pera y Roger Pera, Mercè Arànega, Mercè Martínez, Miquel Fernández, Mone Teruel, Muntsa Rius, Sergi Albert y Xavi Duch, estarán presentes en la segunda edición de «Nit de Musicals», acompañados al piano por el maestro Andreu Gallén. 

Además, el espectáculo contará también con la colaboración de otros artistas, como son: Annabel Totusaus, Benjamí Conesa, Dídac Flores, Gracia Fernández, Jan Forrellat, Jordi Llordella, Júlia Jové, Lluís Parera, Marc Flynn, Marc Pociello, Marc Pujol, Marc Vilavella, Marta Capel, Miquel Cobos, Nacho Melús, Neus Pàmies, Rubén Yuste, Víctor Arbelo, Víctor Gómez, Xavi Navarro y Casademunt.
«Nit de Musicals» es una coproducción del Grec 2015 Festival de Barcelona y Teatralnet Produccions. Se trata de la 2ª edición de un concierto al aire libre en el que todos los asistentes podrán disfrutar de grandes voces del panorama musical catalán. Acompañados por la Banda Municipal de Barcelona, dirigida por el maestro Salvador Brotons, interpretarán temas de Broadway que han marcado la historia del género musical. Escucharemos por tanto, desde el clásico «Streak up the Band» de Gershwin hasta el más reciente «The Producers» de Mel Brooks, con un amplio recorrido que pasa por «The Phantom of the Opera», «My Fair Lady» o «West Side Story», entre muchos otros.
 A continuación compartimos con vosotros el programa, que sin duda, os ayudará a convenceros para asistir a «Nit de Musicals»:
– That's Entertainment (overtura)
– The Producers (We Can Do It)
– Annie Get Your Gun (There's no business, Like Show Business)
– The Phantom of the Opera ("Music of the Night")
– My Fair Lady ("I could Have Danced All Night")
– Stop the World. I Want to Get of ("What Kind of fook am I")
– Oh, Kay! («Someone to watch over me»)
– Funny Girl ("Don't Rain on my Parade")
– West Side Story ("Somewhere") + ("Tonight Quintet")
– Rent ("Seasons of love")
– Sunset Boulevard ("As if We Never Said Goodbye")
– Company ("Being alive")
– Anything goes (Anything goes)
– Cabaret (Maybe this time)
– Le Cage aux Folles ("I'm What I am")
– Gipsy ("Some people")
– A little night Music ("Send in the Clowns")
– Les Miserables ("One Day More")
– A chorus line ("One")
The show must go on! (acercando Broadway a Barcelona)